An External Auditor's main role starts smoothly if the Book of Accounts is maintained perfectly by business entity. We Elevate Auditing is a registered Audit Company in DMCC, has maintained our presence and reputation in DMCC from last 7 years. Since inception of the company we are considered as an DMCC Approved Audit company.
DMCC Approved Auditors List in Accordance with DMCC Approved Auditor Rules is getting maintained after verifying the strength of Audit team employees, experience of Lead Auditor, how long the company is there in business and the qualification of Audit members and the Lead Auditor.
DMCC is recognized as one of the fastest growing free zones of UAE that always maintains high level of integrity and expects high level of ethics from the approved auditors those who are in the list.
We have observed few auditors who could not be able to maintain the requirements as asked by DMCC are no more in the list. In that case business owners should be very careful before choosing the DMCC approved audit company.
Every Year DMCC has a deadline for the submission of Audit Report. Only DMCC Approved Auditors who are having a qualified as well as decent team size can works proactively to fulfill client's requirement by delivering the error free audit report which is accepted all over the UAE to avoid any inconvenience to the business owners.
If the Audit report for DMCC is not submitted on or before the deadline then there is a ban on usage of Owner's DMCC portal and there can be a financial penalty for them. DMCC online portal is designed very nicely that it is very user friendly and smooth that even Business owners can apply visa, renew the license, terminate employee contract and can upload the Financial Audit and Summary Sheet in approved DMCC format.
DMCC has a strong Decree that there is no shortcut to avoid the submission of an Audit report. You need to submit same audit report, on which you agreed by signing the memorandum at the time of DMCC Company Formation.
After reviewing the Audit report, the experts in DMCC who closely verify submitted audit reports give their valuable suggestions to the business owners that how to have a proper control over the finance and what all initiatives they should take for the sustainability of their business. Also, the Assurance team who controls the Approved Auditor in DMCC never hesitates to call and fix meeting to understand the Audit procedures that is followed by the DMCC registered Audit.
In DMCC we generally find active business unlike other free zones. Keeping in mind a premium free zone Elevate Auditing always follows all ethical steps to serve businesses in DMCC with high standard. Small Business who are not having their own inhouse accountants finds it difficult to have an Audit report in time. If a retail business owner spends small amount of money, can outsource the Accounting and VAT services to Elevate Business Solutions DMCC a reliable outsourcing Accounting company based in DMCC. With Elevate Auditing will not be a challenge at the end of the year.
At Elevate Auditing we generally ask for Trial Balance, Balance Sheet & Profit Loss to start the Auditing process. Along with that Bank statement for the Auditing period, Trade License, Share Certificate(s), Memorandum & the passport of the General Manger or any share holder who presents the documents to the Auditor.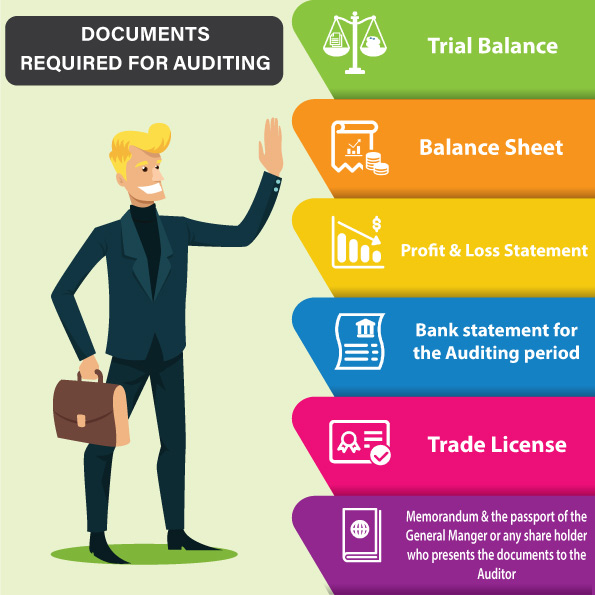 AUDIT THROUGH ELEVATE
Once the Audit process is initiated, then as an DMCC Registered Auditor we have the right to ask Receivable confirmation, Fixed Assets Schedules, Bank Confirmation, proof of salaries of employees is getting paid as per DMCC portal information. This ensures to deliver a genuine audit report. Other than submitting the Audit report to DMCC, investor can use the same audit report prepared by Elevate for many other purposes i.e. Bank Facility, Investor arrangement, applying for tender/projects and valuating a company.
There is a neck to neck competition in the Audit Business in UAE. Some Auditors are not having their presence in DMCC, not having experienced & qualified team to understand the criticality of modern business.
DMCC area is geographically very contented. As an Auditor if you are present in DMCC this is something very convenient to reach to several companies & help businesses to get their audit in time.
For those companies who are not present in DMCC unlike Elevate Auditing it is really difficult to deliver an ethical auditing service to the business owners that they are paying for. The Audit fees for an DMCC company varies from one Audit company to other audit company. At Elevate we are a mid-range audit company and prices are moderate and we really help business owners to meet the DMCC Auditing requirement in time and our advises to make them successful in business. Elevate is serving more than 1500 SMEs for their yearly audit.  Getting your Audit done form Elevate is worth.
Mob: +971(0)561672533
Email Id: [email protected]